Björn Koreman is Talented, Fast, and Ready to Run
7 min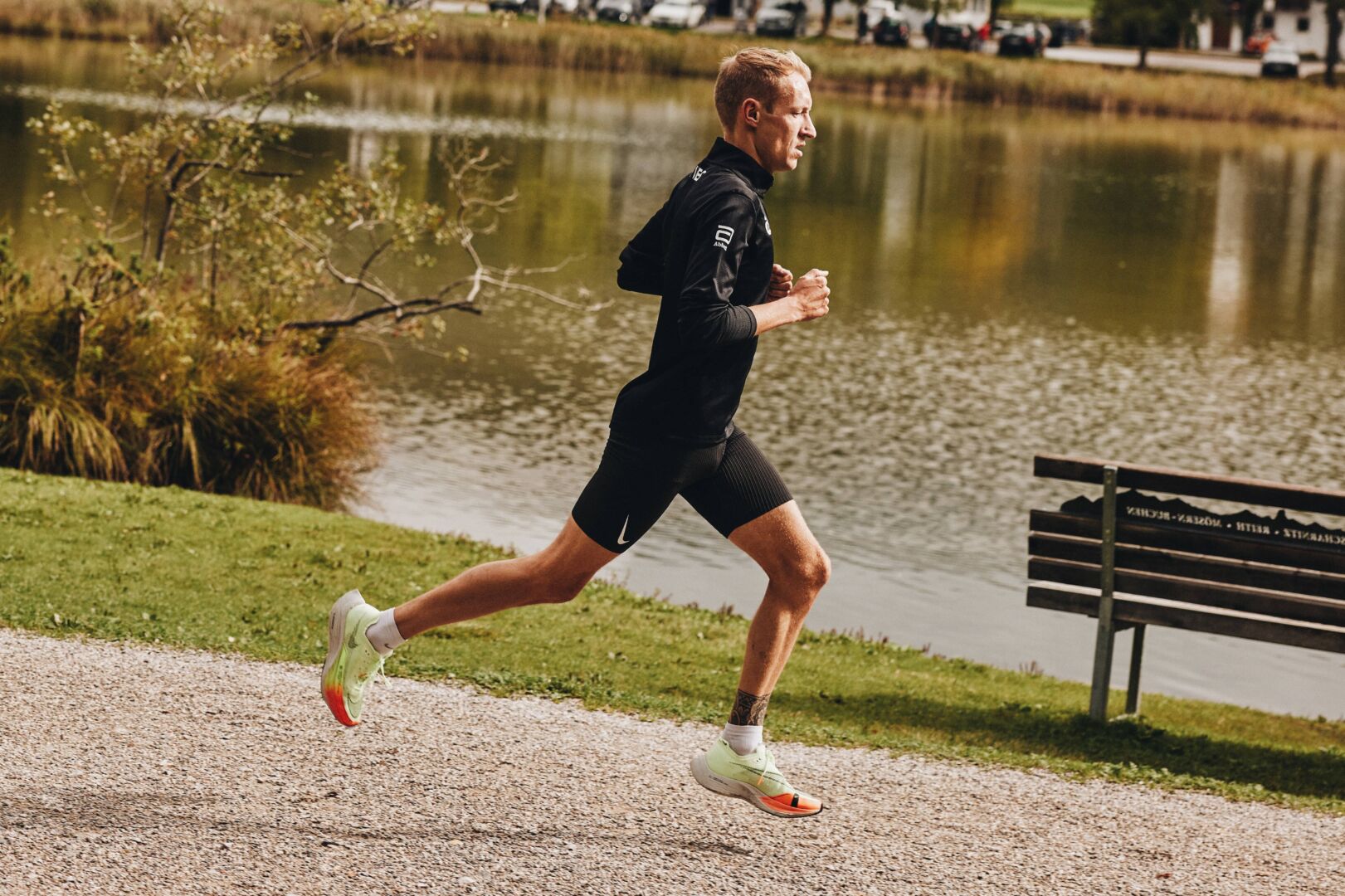 Björn Koreman wanted to pick up the photographer at the Innsbruck Airport. He'd been there a hundred times, he had a car, it would be no problem. Of course, no one was going to let Koreman take on the role of Uber driver. He is, after all, a professional marathoner and the Netherland's next greatest hope of attaining world titles and Olympic medals in distance running. But this was like a peek into the code of Koreman's operating system. What you find isn't bravado, toxic charisma, or intense self-assurance, which is the lifeblood of so many professional athletes.
It is chill.
Koreman is chill.
This attitude pervaded the early morning training camp at Seefeld in Tirol, Austria. Whatever I expected of the training camp, this wasn't it. Track workouts take place around a small lake with trails full of birdwatchers and Austrian retirees walking their dogs. The trail Koreman runs sprawls through gravel paths carved into the mountainside where it isn't out of place to see alpacas saunter by. Koreman comes to Seefeld for training about four times a year, and it's easy to understand why. The paths aren't paved and the ground underfoot is less jarring on the body, the steep inclines allow him to count the occasional hill run against his rigid strength training routine, not to mention the benefits of training at altitude, as it sits 1,180 metres above sea level. He also knows all the best hidden spots, like the mountain top reservoir he occasionally runs to. It's idyllic, sure. Beautiful, of course. But no one would mistake this place for exciting. Evidently, that's not a problem. "I never get bored," Koreman said. "The more I run, the happier I am."
The next day, we found ourselves going up a mountain, side-by-side. To be clear, Koreman was running and I was cycling, and it's probably accurate to say we were working at the same intensity. Even running on the incline, being peppered with questions about his life, his motivation, his hopes and dreams, he chatted as if we were strolling through the park.
Related: Read all about the one running tip that will change your life.
The first thing to note is Koreman's pace. It's something to marvel at. "The first run I ever did was a 5k, I was visiting my parents and my dad was planning on running a 10k the next day," he said. "I decided I'd run the 5k for fun. No practice. No training. And I ran it in 20 minutes and 33 seconds." If you need a little context to understand how fast Koreman propels his body through space, his marathon pace is 3:05 minutes per kilometre, while the average male marathon runner hits their stride at about 6:43 minutes per kilometre.
He's a numbers guy. It's hard to be a marathoner and not be a numbers guy. But it hadn't taken over. Not even a little. He loved the sport of running, simple as that. "There is nothing I would rather be doing," Koreman tells me. It's magnetic, to hear someone talk about their passion with pure unadulterated joy.
Koreman was good with the bike-run dynamic, as he usually has someone cycling alongside, crewing for him. This was a new experience for me. The movement, the sound of feet hitting gravel, the wind rustling the leaves, the bike tires rolling along—it was meditative. Within moments, I understood the power of his journey, the reality of it, and for the first time in my life I was completely star struck. It was then, hearing the trajectory of his athleticism in the midst of witnessing its vertex, I finally believed something that I had been told since I was a kid: I can accomplish anything I set my mind to.
For starters, most Olympic hopefuls don't start as twenty-something chain smokers. "I never planned to become a pro runner," Koreman said. He played handball in a club league with friends for years, but he enjoyed smoking and drinking more than taking care of his body. Growing up in Raamsdonksveer, just across the Hollands Diep river from Rotterdam, Koreman spent time outdoors with his family, but it had taken a backseat to more social endeavours. That first 5k set everything in motion. There was nothing remarkable about his signing up for that first race. No friends cajoling him to run. No pressure from his dad running the 10k. He just did it. No training, no discipline, 20.33. Six months later, he ran the distance again, having put forth the bare minimum preparation of three training runs, allowing him to shave 1 minute off his time. Friends started encouraging him to see what he might achieve with a bit more training and this is when things got interesting. He quit drinking, quit smoking, and started really running.
"I just wanted to be the best version of myself," Koreman said. "But now I do that with goals [of running a marathon] that help push me further." I peddle a little faster to keep up, he glances over and laughs, "Now, I'm pushing myself to my limits."
The story of his second ever marathon time is even more outlandish. After a marathon planned with friends was cancelled because of Covid, Koreman went in search of a run he could do on his own. He ended up in Vienna in 2020 running with a few Austrian guys he met at the Expo. They were debating whether they wanted to try for the Olympic Standard (what serious runners call the qualifying time needed to get on the Olympic team). Koreman, being Koreman, said that whatever they decided to do, he would be along for the ride. So when the other runners decided to go for it, there he was, striding alongside, like trying for the Olympic Standard was the most normal thing. His new friends dropped out at 27k, leaving Koreman to finish the last 15k alone. Instead of getting discouraged, he just kept going, crossing the finish line alone and garnering the attention of quite literally everyone. Within a week of crossing the finish line he was recruited for the NN Running Team.
Getting onto the NN Running Team was a dream. Koreman had long been a fan of legendary Kenyan distance runner Eliud Kipchoge—the first man to run a sub-2 hour marathon. Now Koreman and Kipchoge train together. On the same team. While Koreman is in hardcore training mode to qualify for the Paris Olympics in 2024, he is going to be cheering on Kipchoge, who is returning to the Berlin Marathon this year, on September 25th looking to snag a new world record.
These days, Koreman's training is not so ad hoc. He's scheduled for around 10 training sessions a week, covering about 200 km. It's a mix of speed work on the track, mountain runs for conditioning, road running for endurance, gym time for strength, and a couple hours a week devoted to recovery. His coach, Bram Wassenaar, has crafted a schedule that pushes Koreman without taking the fun out of the sport—a death knell for many promising young runners. Whatever Wassenaar has been doing for the past six years, it works. Koreman holds the title for fifth fastest marathon ever run by a Dutchman, snapping the tape in a time of 2:10.32 at the Rotterdam Marathon. His speed is nothing short of legendary.
***
It starts to rain. I turn to Koreman, a little out of breath with mud splatters up my back from the bike tire. "You run in the rain, right?" I ask, naïvely thinking it might be time we make for shelter. He just laughs. "Of course!" he says, his signature smile lighting up his face. "You can't check the weather out here." And we keep going. I should have expected this from a man who's stride is 1.70 metres during race pace—for reference I am 1.58 metres tall—who appears to fly through the air when doing technique drills. He could gripe about the rain if he wanted to, but instead he chooses to enjoy it. "I love running," he reiterates for the tenth time that hour. And as the rainfall picks up, it's starting to click. I get why he does.
Related: New to running? Try these 4 easy tricks to make sure you keep going!
The power of finding what you love, even late in life—he didn't run his first marathon until he was 29—is powerful. But he created this opportunity for himself. He built the future he wanted, and he keeps training to get there. Notably, he eats the way he trains—full on, with a grin. Koreman starts everyday with 4 bread rolls, has 20g of protein at every meal (except breakfast), eats around 4,000-5,000 calories a day, and houses around 18 slices of bread. Koreman has hit his grove. He unlocked his pure, untapped potential, and the adrenaline from putting his body first.
Knowing and doing and two different things. I knew we were in for about 15km, so I had stuffed my pockets with a few of Koreman's favourite protein bars (Extra Chocolate White Chocolate). When we arrived back at our starting point for a cool down, he quickly powered through a few t-band stretches before stripping off his sneakers and popping in the freezing spring water just outside the hotel. I tossed him a bar as he patiently watched the five minute timer countdown, legs fully submerged in sub-zero water, fully enjoying the moment. Doing what he does best: fully committing to his training; enjoying the ride, the scenery, and his protein bar. I finally asked him something that had been on my mind: what happens when he gets lost? Famously, Koreman never runs with more than his sports watch. He just looked at me like I'd asked him why the sky is blue. "I keep running."
Like I said. Chill.
Read more about running from foodspring:
Article sources
We at foodspring use only high-quality sources, including peer-reviewed studies, to support the facts within our articles. Read our editorial policy to learn more about how we fact-check and keep our content accurate, reliable, and trustworthy.