Love working out outdoors and not afraid of some snow and ice? Or are you looking to add some variety to your fitness routine this winter? Whether you live in the city or the country, by the sea or in the mountains, here are ten of the coolest winter sports that will keep you fit through the cold.
#1 Ice Skating
Skating is a wintry classic and a must for anyone wanting to improve their balance as well as their general fitness. Skating can burn up to 300 calories per hour and strengthen your entire musculature. The combination of narrow strides and a glassy surface is a real challenge for your sense of balance. Ice hockey and speed skating are two of our favorite sports that get you in your skates and out on the ice.
The great thing about this sport is that you can lace up your skates almost anywhere. In cities, you can visit an artificial ice rink, and in the countryside, frozen lakes or ponds can be used for ice skating when the temperatures are right. But be sure to check the load-bearing capacity of the natural surface beforehand – safety first!
#2 Snowboarding
Another classic, snowboarding, definitely makes the cut of the best winter sports. You'll need a snow-covered slope, either in a ski resort or in a ski hall. On a snowboard, you stand sideways and, unlike on skis, you have no poles to support you. This means that you move solely by shifting your body weight. This challenges your balance and strengthens your core and leg muscles.
Do you longboard or skateboard in the summer? Then you have a clear advantage when it comes to snowboarding, and should definitely put this winter sport on your must-try list.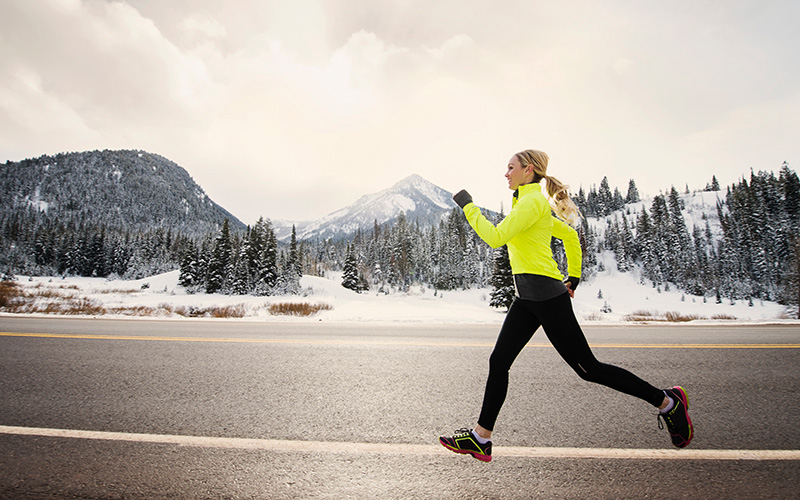 #3 Skiing
Skiing is one of the oldest and most popular winter sports. Even beginners quickly get their money's worth, although ideally you should attend one or more skiing courses before joining the pros on the slopes. Unlike snowboarding, you stand on two skis and can use a ski pole in each hand for support. The movement requires less balance, but skiing is an effective workout. Depending on your skills and technique, you can burn up to 450 calories per hour.
A little easier on the joints, but no less strenuous, is cross-country skiing. It's the perfect endurance training for all those who are looking for an alternative to jogging on snowy days.
Are you a nature junkie, too? Check out our guide to outdoor sports with 7 cool alternatives to running that keep you fit!
#4 Snowshoeing
Hiking is an underestimated sport. The great thing about it: you're in the fresh air, discovering the beauty of nature and working the entire body. Hiking burns between 100 and 500 calorie per hour, depending on the pace and incline. In the snow, hiking is even more demanding and requires extra muscle power, especially in the glutes and legs.
If you're out and about in the snowy winter landscape, you should use snowshoes. Under the soles are special claws that give you grip when crossing alpine terrain.
#5 Snowkiting
If you've discovered kiting in summer, you don't have to miss it in winter. Snowkiting, also known as kite skiing, is the perfect thrill for more adventurous athletes. Equipped with a special snowboard and a large towing kite, you can glide over white powder snow or do daring tricks. Pros can reach speeds of up to 100 kilometers per hour.
Some prerequisites for a fun time are good wind conditions, sufficient snow, and plenty of space.
#6 Cold water surfing
Who says you have to banish your surfboard to the basement in winter? If you're up for some chilly water, you can ride waves on your board all year round. Cold water surfing is becoming more and more popular. No wonder: the conditions in the water are usually even better than in summer, you have less competition at the line-up, and surf courses or trips are much cheaper than in high season. Another plus: surfing is an effective whole-body sport that not only improves your fitness, but also strengthens your upper body muscles.
Prerequisites for water sports in cold weather are an extra thick wetsuit, a hood for your head, gloves, and neoprene shoes.
Read our 11 tips to get you started surfing here.
#7 Ice swimming
Ice ice, baby! Fancy a dip in the cold water? Ice bathing is wellness and a workout in one – for everyone who's up for it. Admittedly, it takes a lot of effort to get into a lake, the sea, or an ice bath when the temperature's freezing. But if you dare, you can strengthen your immune system as well as your cardiovascular system through regular winter bathing. You'll also benefit from cold plunges in the summer, after a long run or hard HIIT workout. Check it out in more depth with our article on cold thermogenesis.
It's important to know the risks of ice swimming, and to never go into the water alone. Be sure to spend just a few seconds or minutes in the icy water and be sure to warm up afterwards.
#8 Outdoor HIIT
In summer, the city's parks, playgrounds, and turfs are a magnet for fitness enthusiasts, who work up a sweat doing squats, push-ups, and pull-ups. But in the winter months, when it's rather cold and dark out? It's much easier to slack off then than when the sun is shining, but it's worth stepping out of your comfort zone. Working out outdoors clears your head, lets you push to your limits, strengthens your self-confidence, and your immune system. So why not join an outdoor HIIT workout or bootcamp in the winter? The practical thing about this intense workout method is that you can train anywhere and just 20 to 30 minutes at a time is enough to fully exhaust yourself.
Can't think of which moves to get you going? Click here for our free Outdoor Bodyweight Workout!
#9 Winter Yoga
Yoga is just the thing that motivates sports enthusiasts and skeptics alike to get on the mat. The millennia-old asana practice is considered a healthy balance to constant sitting and can improve your performance in other activities such as running or weight training. Yoga strengthens your muscles, increases flexibility, and provides mental relaxation. And it doesn't matter whether you flow through the sun salutation under the summer or winter sun.
Adding yoga to your routine is a great thing to do in winter. You can use it to warm up your body and keep your mind clear through the cold. Just ask the yoga schools in your area about their winter course schedule!
Want to try yoga but not sure what to expect? Read up on what to expect from your first yoga session.
#10 Indoor Beach Volleyball
Admit it, you're not much of a winter fan and long for that summer feeling? Then you should team up with a few fitness-minded friends and rent an indoor beach volleyball court. Volleyball trains you from head to toe, especially your agility, coordination skills, and upper body, and leg muscles. And playing on fine beach sand might just help the cold pass by a little bit faster.
And if you still haven't gotten enough ideas, maybe one of these 33 types of sports will stoke your appetite?
Summary
If you want to exercise in winter beyond the gym or home, you have plenty of choice. While classic sports like skiing and snowboarding lure you to the mountains, city dwellers can get their money's worth with ice skating, yoga, and outdoor HIIT. Hardcore skiers will find the perfect adventure in snowkiting, or you can get your thrill with ice swimming or cold water surfing. And if you prefer to spend the winter a bit warmer, you can work off your energy waiting for summer with indoor beach volleyball.
More great tips from foodspring:
Article sources
We at foodspring use only high-quality sources, including peer-reviewed studies, to support the facts within our articles.
Read our editorial policy
to learn more about how we fact-check and keep our content accurate, reliable, and trustworthy.